Resources for MuGard® Oral Mucoadhesive
For additional information about MuGard, please click on the links below to download materials or contact the Soleva Assist Patient Reimbursement and Support Center toll-free at 1-877-319-7272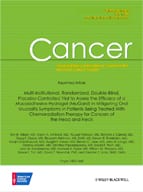 Allison RR, Ambrad AA, Arshoun Y, et al. Multi-institutional, randomized, double-blind, placebo-controlled trial to assess the efficacy of a mucoadhesive hydrogel (MuGard) in mitigating oral mucositis symptoms in patients being treated with chemoradiation therapy for cancers of the head and neck. Cancer. 2014;120(9):1433-1440.
Support services are available through Soleva Assist, including:
Medical information
How to obtain product
Report an adverse event or product complaint
Reimbursement support
Patient assistance
For more information, contact Soleva Assist toll-free at 1-877-319-7272
Indication and Important Safety Information
Indication: MuGard® Oral Mucoadhesive is indicated for the management of oral mucositis/stomatitis (that may be caused by radiotherapy and/or chemotherapy) and all types of oral wounds (mouth sores and injuries), including aphthous ulcers/canker sores and traumatic ulcers, such as those caused by oral surgery or ill-fitting dentures or braces.
Contraindications: MuGard is contraindicated in patients with known hypersensitivity to any of the ingredients in the formulation.
Special Precautions for Use: Patients should avoid eating or drinking for at least one hour after using MuGard. After use, patients should replace the bottle cap and tightly seal the bottle. This product should not be used after the expiration date shown on the carton and product label. Do not use this product in patients with known sensitivity to any of the product's ingredients. Dilution of the product prior to use is not recommended.